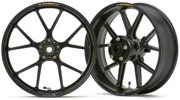 Nu se mai afla in stoc, dar inca poate fi comandat.
M10R KOMPE ALUMINIUM: Die Marchesini Aluminiumräder M10R KOMPE sind besonders für den Straßeneinsatz geeignet. Sie gewährleistet hohe seitliche Festigkeit und Verwindungssteifigkeit neben einer guten Gewichtsreduzierung im Vergleich zu den Original-Felgen. Die M10R-KOMPE wiegen ca. 9,9 kg pro Satz und sind in den folgenden Farben erhältlich: schwarz, schwarz-matt und gold. Weitere Farben sowie Exlodierungen sind auf Anfrage gegen Aufpreis erhältlich. Der Kettenträger ist im Lieferumfang enthalten und die Original-Bremsscheiben können weiter verwendet werden.
M10R KOMPE ALUMINUM: The Marchesini aluminum wheels M10R KOMPE are particularly suitable for street use. She ensures high lateral strength and torsional stiffness besides a good weight reduction in comparison with the original rims. The M10R - KOMPEs weigh approx. 9. 9 kg per sentence and are available in the following colors: black, black-mat and gold. Further colors as well as Exlodierungen are available on enquiry for an extra charge. The chain strap is contained in the scope of supply and the original brake discs can further be used. .