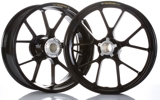 Nu se mai afla in stoc, dar inca poate fi comandat.
M10R CORSE SBK MAGNESIUM
Marchesini hat als erster Hersteller geschmiedeter Magnesium-Felgen mit der M10R CORSE jeden Titel im Motorrad-Rennsport gewonnen. M10R CORSE wurde für Motorradfahrer entwickelt, die auf der Suche nach maximaler Leistung auf der Rennstrecke sind. Aufgrund des geringen Gewichts, von nur 7,8 kg pro Satz, ermöglicht die M10R CORSE eine bessere Beschleunigung und ein deutlich verbessertes Handling. Die Felgen werden in den Farben schwarz, schwarz-matt und gold geliefert.
Marchesini has won every title in the motorcycle racing as the first manufacturer of forged magnesium rims with the M10R CORSE. M10R CORSE was developed for motorcyclists who are on the search for a maximum performance on the racetrack. Due to the low weight of only 7. 8 kg per sentence, the M10R CORSE makes a better acceleration and a handling improved considerably possible. The rims are delivered in the colors black, black-mat and gold.